OUR STORY
Started by brothers George III, Greg and their father, George Jr., GV Art + Design is a creative boutique specializing in original artwork, design, and apparel. George and Greg have been drawing since they were two years old. For them, art is a God-given talent ,but sports and art have always been their passion. Their creativity has given them the opportunity to work with some of the biggest names in sports, entertainment, and pop culture.

Their work has always stood out, making headlines in both local and national media. From SportsCenter, TNT, MLB Network and Jimmy Kimmel, to the front pages of Yahoo, ESPN, NBA.com, and Sports Illustrated, their artwork has captured the world's attention. GV is sought after by some of the largest companies in the world. Their creativity and background in art, design, and advertising gives them versatility and the ability to create campaigns that are fresh, unique, and on-trend.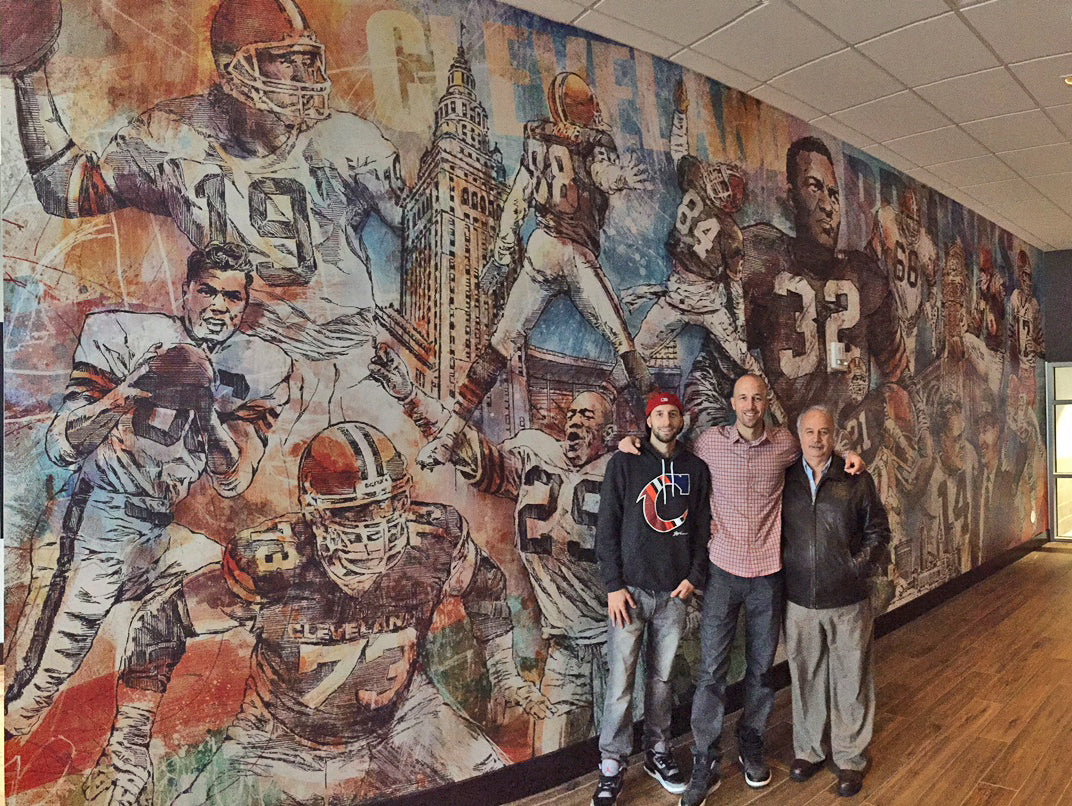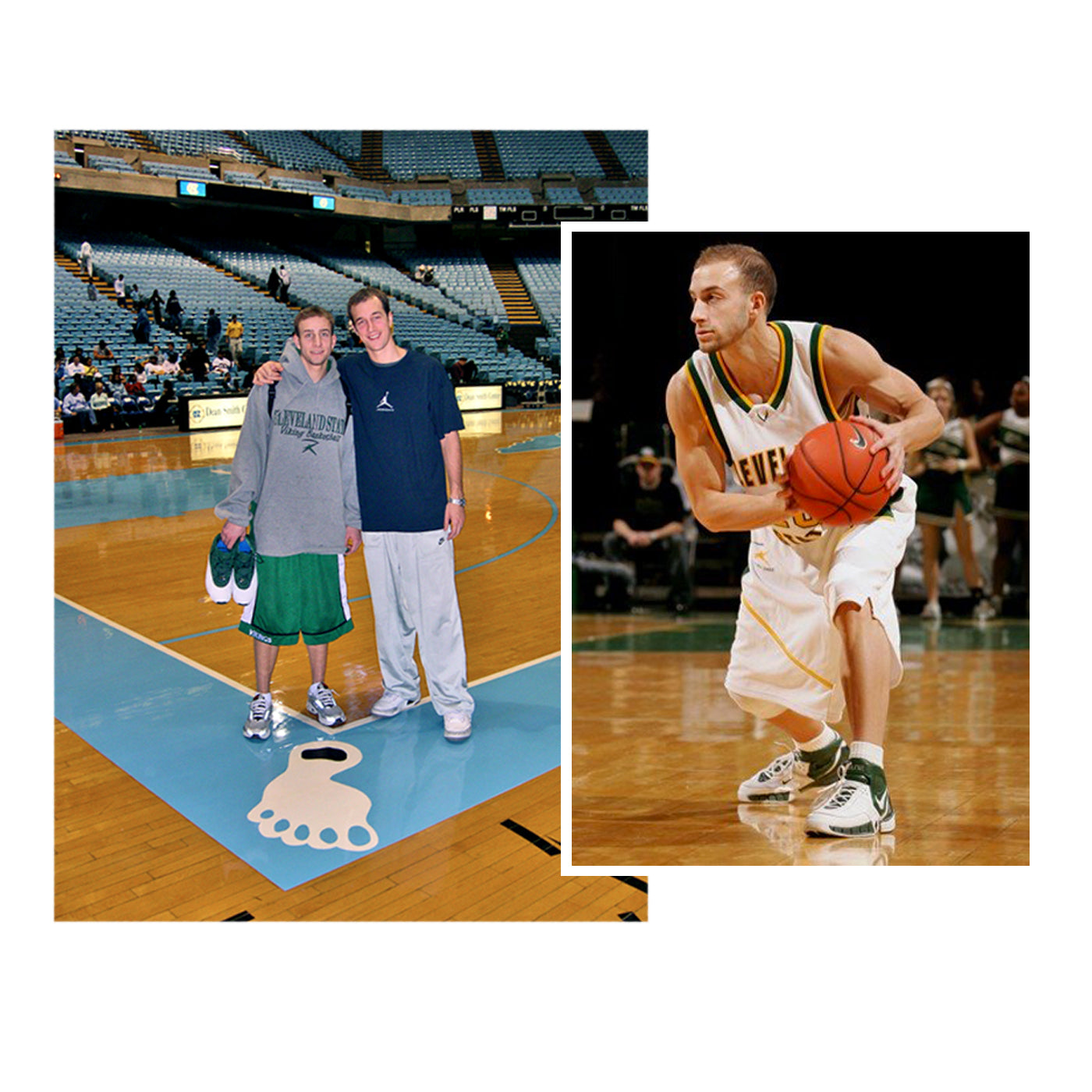 A Family Affair
About George
Taught by their father George Jr., who worked in advertising as an Art Director. George Jr. recognized his son's talents when the brothers were little. He always saw their potential, and developed their God-given gifts and their interest in art, illustration, and design. Their passion in sports and art is what makes GV Art so unique today.
George III is an artist and designer and also known as the world's best Etch A Sketch artist. George received a scholarship to the Cleveland Institute of Art, where he received a Bachelor's Degree in Fine Arts. Before founding GV Art + Design, with his dad and brother Greg, George spent 10 years at one of the largest ad agencies in Cleveland, winning numerous awards as an Art Director.
GV ART + DESIGN
About Greg
After high school, Greg received a scholarship to the Cleveland Institute of Art. After one year, he decided to follow his dream of playing Division I college basketball and transferred to Cleveland State University. He made the team as a walk-on, playing four years for the Vikings. He graduated from CSU with honors, earning a Bachelor's Degree in design. Greg's passion and determination have been pivotal in starting and growing the GV brand into what it is today.
Creative Boutique
In addition to original artwork, their services include everything from print and web design, logos, photography, and apparel. GV Art + Design also offers something no one else in the world can: original, one-of-a-kind pop art on the Etch A Sketch that has captured the attention of the world.
Their GV Apparel is featured in professional team shops and carried in dozens of stores throughout Northeast Ohio and the Midwest.
Turning what they loved into more than just a hobby
HOW IT ALL STARTED
The First Shirt
It all started when GV teamed up with the Cavs and Quicken Loans to create a time-lapsed video of George etching a portrait of LeBron James on the Etch A Sketch. They created a whole campaign around it called, "One Town. One Team. One Dream". It was the first time GV designed and produced a t-shirt from start to finish, and found they really enjoyed the process. Launched during the NBA Finals, this video quickly jumped to 1 million views on YouTube in just a few days. It was picked by 20/20 and YouTube as one of the top viral videos of 2007 and the start of something great.
Love For Cleveland
In 2008, GV started creating Cleveland-themed shirts around their campaign called "Cleveland That I Love". It was more than just a slogan; it became a mindset. At the time, Cleveland was associated with negativity and failure. There's a lot of good in Cleveland and GV believed others felt the same way, but didn't know how to express it. Through their original and creative designs, GV gave them that outlet to showcase their love for the city, quickly becoming a strong voice in Cleveland.
First Collaboration
GV's first athlete collaboration was with the Cleveland Indians' Goon Squad back in 2013. They took what was a locker room slogan between the players and created an identity around them that took the city by storm—and propelled the team to a memorable playoff run. This was the first of many successful player campaigns which has made GV so sought after by both players and agents.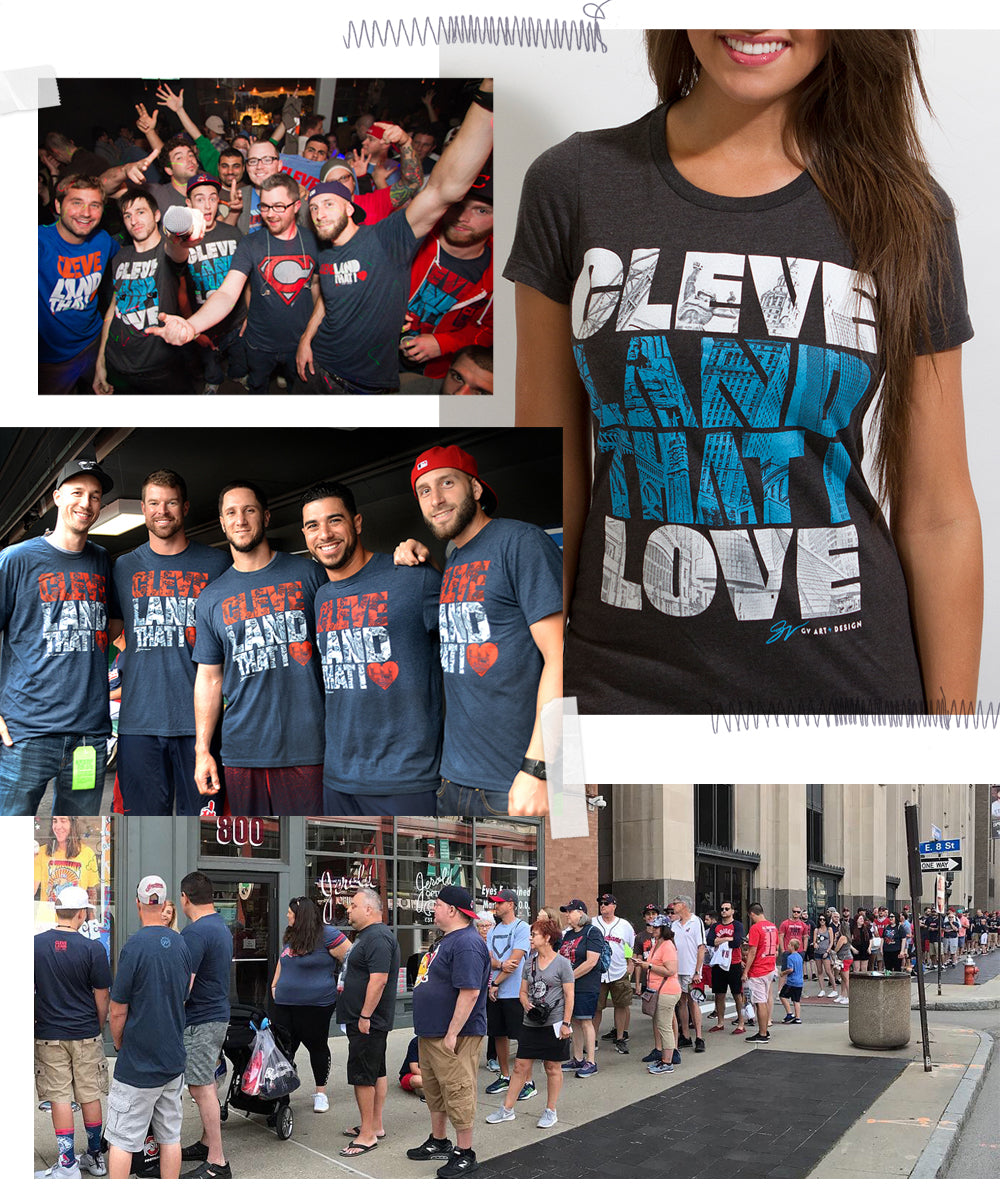 A Growing Brand
GV's stores have become a destination spot in the city. What originally started in their parent's basement has grown into four stores and a very loyal following, with lines wrapping around their building to get their latest drops. Their supporters have proudly worn their shirts in the locker room, on field, and all around the world with orders being shipped to over 50 different countries. What started as a way to showcase their passion for their city has become a brand recognized all throughout the nation.
Never Stop
Athletes and agents throughout the sports world now come to GV to help grow their brands. Their unique combination of dynamic artwork and creative ideas is what makes GV so special and rare. Their designs and artwork have been seen and recognized throughout the world. They continue to build relationships and friendships through their God-given talents. Year after year, they continue to grow and thrive.